My Blog
Posts for: March, 2015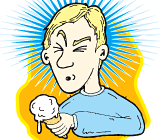 Tooth sensitivity is an all too common problem among dental patients. If eating certain foods or simply touching a tooth causes you pain, you should know why this may be happening and what can be done about it.
Tooth sensitivity occurs in most cases because the portion of the tooth known as the dentin has been exposed. The dentin contains nerve fibers that inform and alert the brain about the current environment of the tooth (temperature or pressure changes). The enamel protects the tooth from environmental extremes.
Receding gums are the most common cause for dentin exposure — the enamel only protects the crown of the tooth and is not present on the root of the tooth. Acids in certain foods can then begin to erode the dentin around the roots and expose nerves. Sweet items (mainly sugar) and temperature shifts irritate the nerve endings, causing pain.
While receding gums (most commonly caused by brushing too hard and too often) may be the most common cause for sensitivity, it isn't the only one — tooth decay may also lead to it. Untreated, decay works its way into the tooth pulp and irritates the nerves. Treating the decay and filling the tooth may also cause sensitivity unless the dentist places a lining designed to minimize it temporarily while the area heals.
Alleviating pain from sensitivity begins with how you brush your teeth. Remember: the goal of brushing is to remove plaque, which does not require vigorous action. Brush gently with a soft-bristled brush and not too often. We might even recommend not brushing a very sensitive tooth for a few days to give the tooth a rest. You should also brush with a toothpaste containing fluoride, which will help strengthen the tooth surface against the effects of acids and sweets.
During an office visit, we can also apply a fluoride varnish or use certain filling materials that will serve as a barrier for the sensitive area. For cases where decay has irreversibly damaged the tooth pulp, a root canal may be the best treatment.
Tooth sensitivity isn't necessarily something you have to live with. There are treatments that can relieve or lessen the pain.
If you would like more information on tooth sensitivity and what can be done about it, please contact us or schedule an appointment for a consultation. You can also learn more about this topic by reading the Dear Doctor magazine article "Sensitive Teeth."
As a member of the best-selling pop group Spice Girls, Mel C (AKA Sporty Spice) enjoyed her share of musical superstardom. At the band's peak in the Nineties, the young singer's signature look featured baggy sweatpants, an assortment of tattoos, a nose stud and a gold-capped incisor, front and center in her mouth. Today, Melanie Chisholm is still singing — but now she's a mom, an amateur triathlete… and that gold tooth is just a memory. Not only that, her smile looks more evenly spaced and whiter than it did when she was referred to as the "tomboy" of the group.
What happened? In our view, it all boils down to changing tastes — plus a little bit of help from dental professionals. As the "wannabe" singer proves, there's no single standard when it comes to making your teeth look their best. Your own look is unique to you — and your smile can reflect that individuality.
For example, crowns (caps) are substantial coverings that may be placed on teeth when they are being restored. They are available in three types: gold, all-porcelain, or porcelain-fused-to-metal. The latter two are tooth-colored, while the gold is — well, shiny like gold bling. Which one is right for you? In many cases, it's your choice.
Likewise, dental veneers — wafer-thin shells that can correct cosmetic issues by covering the surface of your teeth — can be made in a variety of shades. Their hues may range from natural ivory to Hollywood white, and everything in between. What's the best color for you? Only you can say.
Some people opt for a "smile makeover" that uses small irregularities in the spacing and color of teeth to create a more "natural" look. Other folks want a perfectly even, brilliant white smile that dazzles the eye. Still others are looking to match or restore the smile they once had — perhaps even re-creating a signature gap between the teeth. As long as there are no other dental issues involved, the choice is yours.
So if you're unhappy with your smile — or if you feel it doesn't reflect the person you "wannabe" — why not talk to us about a smile makeover? Just call our office to schedule a consultation. You can learn more about this topic in the Dear Doctor magazine articles "Beautiful Smiles by Design" and "The Impact of a Smile Makeover."