My Blog
Posts for tag: dental injuries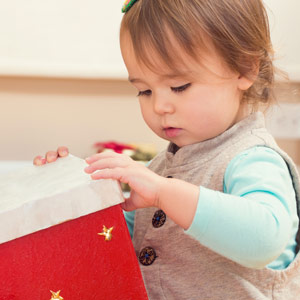 The holidays draw families together like no other season as loved ones gather from near and far to eat, drink and be merry—and exchange gifts. For the little kids that means toys (and sometimes for the big "kids" too!). Unfortunately, a toy meant to delight children could instead cause them harm, including injuries to their teeth and gums.
Be selective, then, when giving toys to the special children in your life this holiday season. Here are a few tips to remember to help protect their teeth and gums from injury.
Avoid toys with small parts. Given infants' and toddlers' propensity to put objects in their mouth, try to avoid choosing toys with small parts. While the main concern with smaller toys is the risk for choking, small, hard objects in the mouth could also cause dental damage. The danger is especially acute if a child falls while a toy or similar object is in their mouth.
Watch out for hard, sharp-edged toys. Younger children especially like to bite and gnaw on things. It's prudent, then, to stay away from hard plastic toys or those with sharp points or edges—these could chip teeth or cut into the gums. Instead, look for toys made of more pliable plastic or fabric, and with rounder surfaces. When in doubt, look for labeling on packaging that indicates the appropriate ages for a particular toy.
Discard damaged toys. With your kids' toy boxes brimming over with new holiday treasures, it's a good time to do a safety inventory of their older toys. Besides those they've outgrown, look for toys that may have been damaged or broken. Although initially they may have been safe, toys in poor condition might pose many of the dangers to teeth and gums we've previously mentioned. Damaged toys should be either repaired or discarded.
Supervise their playtime. You might also want to keep a watchful eye out as your kids play with their new toys. While they do need their own time to be imaginative during play, children could put their toys to uses not intended for them, increasing the risk of injury. A bit of gentle supervision is a good idea to prevent unintended—and unwelcome—consequences.
The holidays are a magical time for all of us, but especially for children. Follow these holiday toy tips to prevent dental injuries that could ruin your family fun.
If you would like more information about protecting your child's dental health, please contact us or schedule a consultation.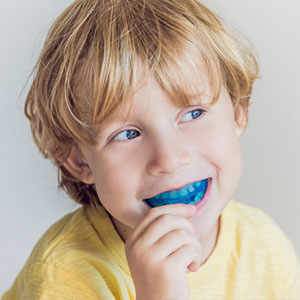 As spring weather heats up, so do a lot of outdoor sports like baseball or soccer. Unfortunately, the chances of sports-related injuries increase as well. Your child's mouth in particular is a prime target for injury—and you need to be prepared.
First and foremost, players should wear a mouthguard during contact sports to reduce their risk of injury. Mouthguards can absorb much of the force generated during impact—and may make the difference between minor bruising and a fractured or knocked-out tooth.
"Boil and bite" mouthguards available from the local pharmacy or sporting goods store are popular because of their cost and availability. These are softened in hot water before the wearer bites down to create a semi-customized fit. An even better option, though, is a custom mouthguard that is made from a precise impression of your child's teeth that we take in our office. This type of mouthguard costs more, but it provides greater protection and comfort than one from your corner store.
A mouthguard can significantly reduce the risk of injury but won't eliminate it entirely. If a dental injury does occur, you need to know what to do. This will depend mainly on the type of injury: If the tooth is chipped but not pushed out of position, you can collect any tooth fragments and see us within 12 hours for an examination and possible repairs. If the tooth has moved or is loose, you should see us even sooner—within 6 hours so we can readjust the tooth and, if needed, splint it until it is securely reattached.
A more serious injury is a tooth that has been knocked completely out of its socket. It can often be saved, but you'll need to act quickly—optimally, within 5 minutes—by reinserting the tooth in its socket. Although it sounds daunting, it's really a matter of a few simple steps: First, find the tooth and rinse off any debris with clean water. Holding it by the crown (the visible part you are used to seeing) insert the root end into the empty socket. If your placement isn't "just right," don't worry; we can adjust it later, but it will require some pressure to place it in the socket. Have the person bite down on a piece of gauze or clean cloth to hold the tooth in place. Call us immediately. If you cannot reach us, go to an emergency room.
Quick action and prompt follow-up dental care after a mouth injury increase the chance of a happy outcome. Along with proper mouthguard protection, remembering these pointers will help ensure that your family has an enjoyable sports season this year!
If you would like more information about sports-related dental injuries, please contact us or schedule an appointment for a consultation. To learn more, read the Dear Doctor magazine articles "Athletic Mouthguards" and "The Field-Side Guide to Dental Injuries."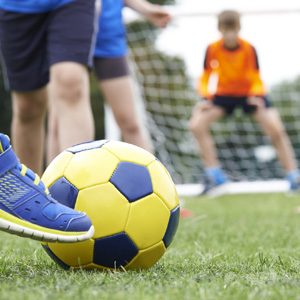 From birth to young adulthood, your child's teeth gums and other mouth structures steadily grow and mature. Sometimes, though, problems arise and get in the way of their oral health. It's important we detect when that happens and take action.
We can sort these potential problems into three broad categories: developmental, disease and injury. The first category includes such problems during their childhood years as teeth erupting out of position or the jaws growing improperly and becoming abnormally long, short, wide or narrow.
The possibility of developmental problems is a primary reason for regular dental visits, beginning around your child's first birthday. If we can detect a growing problem early, we may be able to minimize or even reverse its impact to your child's oral health.
Regular dental care also helps control disease, particularly tooth decay and cavity formation. Our primary aim is to treat decay, even in primary (baby) teeth: losing a primary tooth to decay could adversely affect the incoming permanent tooth's jaw position. Besides treatment, we can also help prevent decay with topical fluoride treatments (to strengthen enamel) and sealants.
Although not as common as disease, dental problems due to injury still occur all too frequently. Blows to the mouth can chip teeth, loosen them or even knock them out. For any type of visible tooth injury you should visit us or an emergency room immediately — time is of the essence especially to save a knocked out tooth. Be sure you recover and bring any knocked out teeth or chip fragments.
We can also help you on the injury prevention front as well. For example, if your child participates in contact sports or similar activities, we can fashion a custom-fitted mouth guard to protect their teeth and soft tissues.
Keeping a vigilant eye for these potential problems will help ensure your child's future oral health is the best it can be. The sooner these problems are detected, the better and less costly their outcome.
If you would like more information on caring for your child's teeth and gums, please contact us or schedule an appointment for a consultation.