My Blog
Posts for tag: toothache
Dental disease doesn't discriminate by age. Although certain types of disease are more common in adults, children are just as susceptible, particularly to tooth decay.
Unfortunately, the early signs of disease in a child's teeth can be quite subtle—that's why you as a parent should keep alert for any signs of a problem. Here are 3 things you might notice that definitely need your dentist's attention.
Cavities. Tooth decay occurs when mouth acid erodes tooth enamel and forms holes or cavities. The infection can continue to grow and affect deeper parts of the tooth like the pulp and root canals, eventually endangering the tooth's survival. If you notice tiny brown spots on their teeth, this may indicate the presence of cavities—you should see your dentist as soon as possible. To account for what you don't see, have your child visit your dentist at least twice a year for cleanings and checkups.
Toothache. Tooth pain can range from a sensitive twinge of pain when eating or drinking hot or cold foods to a throbbing sharp pain. Whatever its form, a child's toothache might indicate advancing decay in which the infection has entered the tooth pulp and is attacking the nerves. If your child experiences any form of toothache, see your dentist the next day if possible. Even if the pain goes away, don't cancel the appointment—it's probable the infection is still there and growing.
Bleeding gums. Gums don't normally bleed during teeth brushing—the gums are much more resilient unless they've been weakened by periodontal (gum) disease (although over-aggressive brushing could also be a cause).  If you notice your child's gums bleeding after brushing, see your dentist as soon as possible—the sooner they receive treatment for any gum problems the less damage they'll experience, and the better chance of preserving any affected teeth.
If you would like more information on dental care for your child, please contact us or schedule an appointment for a consultation.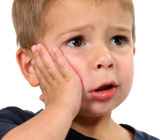 When it comes to childhood injuries — cuts and scrapes, growing pains, even wounded pride — it's often a parent's job to try and make things better. But sometimes it's hard to know whether the hurt indicates a serious problem, or if it's a situation that will resolve itself as soon as the sun comes up. If pain is being caused by a toothache, here are some general rules that can help you figure out what's the best thing to do.
1. Unless it's accompanied by fever and swelling, a child's toothache isn't generally an emergency.
The first thing to do is calm down (both you and the child) — and talk! Find out exactly where the pain comes from, and when and why it might have started. (Your child may have forgotten to tell you about that fall in the gym...) Sometimes, a little sleuthing will give you a clue about what's causing the pain.
2. Tooth decay, a bacteria-induced infection, is the most common cause of toothaches.
Check the teeth for brown spots or tiny holes (cavities) which might indicate decay — especially on the biting surfaces and in the areas between teeth. Next, look at the gums around the hurt tooth. If they show cuts or bruises, that's a sign of trauma. If you see only swelling, it may indicate the formation of an abscess.
3. If nothing looks obviously wrong, try gently flossing both sides of the tooth.
This may dislodge a bit of trapped food or candy, and relieve the pressure and soreness. But if that doesn't help, remember that some conditions — like nerve damage inside the tooth, for example — may have no apparent symptoms except pain.
4. Treat pain with an appropriate dose of acetaminophen or ibuprofen.
Base the dose on your child's age and weight, according to the medication's instructions. You can also apply an ice pack (one minute on, one minute off) to the outside of the jaw. But NEVER rub aspirin (or any painkiller) directly on a child's gums: It can cause burns and severe discomfort.
5. Pain that keeps a child awake at night, or persists into the next day, needs professional evaluation as soon as possible.
Otherwise, unless the pain resolves quickly and you're sure you know exactly what caused the toothache, it's best to bring your child in for an examination as soon as it's practical. You'll feel better having a dental professional, backed with years of experience and training, taking care of your child's health — and you just might prevent a future problem.
If you have questions about toothaches in children, please contact us or schedule an appointment for a consultation. You can learn more in the Dear Doctor magazine article "A Child's Toothache."