My Blog
Posts for tag: tooth decay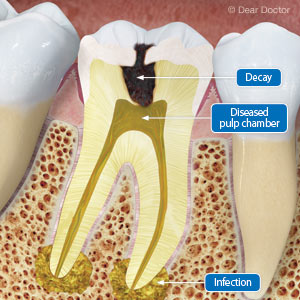 A root canal treatment is a common procedure performed by dentists and endodontists (specialists for inner tooth problems). If you're about to undergo this tooth-saving procedure, here's what you need to know.
The goal of a root canal treatment is to stop tooth decay within a tooth's interior and minimize any damage to the tooth and underlying bone. This is done by accessing the tooth's pulp and root canals (tiny passageways traveling through the tooth roots to the bone) by drilling into the biting surface of a back tooth or the "tongue" side of a front tooth.
First, though, we numb the tooth and surrounding area with local anesthesia so you won't feel any pain during the procedure.  We'll also place a small sheet of vinyl or rubber called a dental dam that isolates the affected tooth from other teeth to minimize the spread of infection.
After gaining access inside the tooth we use special instruments to remove all of the diseased tissue, often with the help of a dental microscope to view the interior of tiny root canals. Once the pulp and root canals have been cleared, we'll flush the empty spaces with an antibacterial solution.
After any required reshaping, we'll fill the pulp chamber and root canals with a special filling called gutta-percha. This rubberlike, biocompatible substance conforms easily to the shape of these inner tooth structures. The filling preserves the tooth from future infection, with the added protection of adhesive cement to seal it in.
Afterward, you may have a few days of soreness that's often manageable with mild pain relievers. You'll return for a follow-up visit and possibly a more permanent filling for the access hole. It's also likely you'll receive a permanent crown for the tooth to restore it and further protect it from future fracture.
Without this vital treatment, you could very well lose your tooth to the ravages of decay. The time and any minor discomfort you may experience are well worth the outcome.
If you would like more information on treating tooth decay, please contact us or schedule an appointment for a consultation. You can also learn more about this topic by reading the Dear Doctor magazine article "Root Canal Treatment: What You Need to Know."
Cavities can happen even before a baby has his first piece of candy. This was the difficult lesson actor David Ramsey of the TV shows Arrow and Dexter learned when his son DJ's teeth were first emerging.
"His first teeth came in weak," Ramsey recalled in a recent interview. "They had brown spots on them and they were brittle." Those brown spots, he said, quickly turned into cavities. How did this happen?
Ramsey said DJ's dentist suspected it had to do with the child's feedings — not what he was being fed but how. DJ was often nursed to sleep, "so there were pools of breast milk that he could go to sleep with in his mouth," Ramsey explained.
While breastfeeding offers an infant many health benefits, problems can occur when the natural sugars in breast milk are left in contact with teeth for long periods.  Sugar feeds decay-causing oral bacteria, and these bacteria in turn release tooth-eroding acids. The softer teeth of a young child are particularly vulnerable to these acids; the end result can be tooth decay.
This condition, technically known as "early child caries," is referred to in laymen's terms as "baby bottle tooth decay." However, it can result from nighttime feedings by bottle or breast. The best way to prevent this problem is to avoid nursing babies to sleep at night once they reach the teething stage; a bottle-fed baby should not be allowed to fall asleep with anything but water in their bottle or "sippy cup."
Here are some other basics of infant dental care that every parent should know:
Wipe your baby's newly emerging teeth with a clean, moist washcloth after feedings.
Brush teeth that have completely grown in with a soft-bristled, child-size toothbrush and a smear of fluoride toothpaste no bigger than a grain of rice.
Start regular dental checkups by the first birthday.
Fortunately, Ramsey reports that his son is doing very well after an extended period of professional dental treatments and parental vigilance.
"It took a number of months, but his teeth are much, much better," he said. "Right now we're still helping him and we're still really on top of the teeth situation."
If you would like more information on dental care for babies and toddlers, please contact us or schedule an appointment for a consultation. You can also learn more by reading the Dear Doctor magazine articles "The Age One Dental Visit" and "Dentistry & Oral Health for Children."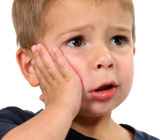 When it comes to childhood injuries — cuts and scrapes, growing pains, even wounded pride — it's often a parent's job to try and make things better. But sometimes it's hard to know whether the hurt indicates a serious problem, or if it's a situation that will resolve itself as soon as the sun comes up. If pain is being caused by a toothache, here are some general rules that can help you figure out what's the best thing to do.
1. Unless it's accompanied by fever and swelling, a child's toothache isn't generally an emergency.
The first thing to do is calm down (both you and the child) — and talk! Find out exactly where the pain comes from, and when and why it might have started. (Your child may have forgotten to tell you about that fall in the gym...) Sometimes, a little sleuthing will give you a clue about what's causing the pain.
2. Tooth decay, a bacteria-induced infection, is the most common cause of toothaches.
Check the teeth for brown spots or tiny holes (cavities) which might indicate decay — especially on the biting surfaces and in the areas between teeth. Next, look at the gums around the hurt tooth. If they show cuts or bruises, that's a sign of trauma. If you see only swelling, it may indicate the formation of an abscess.
3. If nothing looks obviously wrong, try gently flossing both sides of the tooth.
This may dislodge a bit of trapped food or candy, and relieve the pressure and soreness. But if that doesn't help, remember that some conditions — like nerve damage inside the tooth, for example — may have no apparent symptoms except pain.
4. Treat pain with an appropriate dose of acetaminophen or ibuprofen.
Base the dose on your child's age and weight, according to the medication's instructions. You can also apply an ice pack (one minute on, one minute off) to the outside of the jaw. But NEVER rub aspirin (or any painkiller) directly on a child's gums: It can cause burns and severe discomfort.
5. Pain that keeps a child awake at night, or persists into the next day, needs professional evaluation as soon as possible.
Otherwise, unless the pain resolves quickly and you're sure you know exactly what caused the toothache, it's best to bring your child in for an examination as soon as it's practical. You'll feel better having a dental professional, backed with years of experience and training, taking care of your child's health — and you just might prevent a future problem.
If you have questions about toothaches in children, please contact us or schedule an appointment for a consultation. You can learn more in the Dear Doctor magazine article "A Child's Toothache."